Things are Hopping in Australia!
Clara Geoghegan, the co-Director of the Catherine of Siena Institute in Melbourne, Australia, gives us an update on the growth of the Institute in a "sunburned land."
One Crafty Lady: A Charism Profile
Anna Elias-Cesnik, a Called & Gifted teacher from Tucson, Arizona, creates beautiful hand-made jewelry, pocketbooks, clothing, hats, and cloth dolls. What makes this creativity more than just a hobby? Read all about it!
A Fresh Look at Literacy
Mary Sharon Moore writes about the different types of literacy a disciple of Jesus is required to develop.
Moralistic Therapeutic Deism
Whew! What a mouthful! But it is a concise description of the religious attitudes of many young people. Read about where they got it in this reprint of one of Sherry's posts on Intentional Disciples.
The Miracle of Marriage
Patricia Mees Armstrong is a gifted poet, essayist, novelist and writer of short stories. This poem is straight from her heart, shaped by over five decades of marriage to her college sweetheart, Rich.
Spe Salvi - You can read online Pope Benedict XVI's encyclical on hope here at the Vatican Website.
This year is the 800th anniversary of the founding of the Dominican cloistered nuns! If you would like a glimpse into their life of prayer and contemplation, take a listen to this brief NPR interview with a Dominican nun from Los Angeles' Monastery of the Angels.
DisciplesNow.com is a web-based ministry for youth focused on the traditions, life, and mission of the Catholic faith community. As an informational resource, Disciples Now provides opportunities to learn, to discuss, and to celebrate the challenges of discipleship in the context of daily life. The site targets junior high and high school students, and has a great title - and it's true. We're all invited to be disciples now!
Catherine of Siena's Writings are part of Other Women's Voices, a website offering information about, excerpts from, and links to the work of well over a hundred women writers, dating from ca. 2200 BCE to the end of the 17th century. The site includes brief biographical information of Catherine, links to online editions of her works, bibliographical details of texts not available online, selected quotations (often substantial), and information about secondary sources. This well-maintained site is the work of retired college teacher Dorothy Disse.
Lent is almost upon us, so here are a few articles you might enjoy reading. Abbot Prosper Gueranger, OSB, one of the great liturgists of the nineteenth century, gives a detailed history of the development of Lent. Creighton University has a wonderful site to help you pray during Lent, and the website Catholic Mom has some suggestions for Lenten activities for children.
This is a workshop for pastors, parish staff, and other lay leaders who would like to explore how to foster a culture of intentional discipleship and discernment in their parishes. The formation provided will help participants learn how to evangelize parishioners who will then worship, pray, give, study their faith, and discern God's call for them out of a loving relationship with Christ.
Full room-and-board or commuter rates are available. For information or to make reservations, contact Mike Dillon at the Institute office.
June 8-12, 2008
Benet Lake, WI
5 p.m. Sunday evening through Thursday noon.
Location: Beautiful and peaceful St. Benedict's Abbey is located on the Wisconsin-Illinois state line six miles west of I-94.
CONTACT: Mike Dillon at the Institute Office 1-888-878-6789 (toll free). You may also contact Brenda Jasinski in the Milwaukee area at (262) 470-6279
July 27-31, 2008
Colorado Springs, CO
5 p.m. Sunday evening through Thursday noon.
Location: Nestled in the foothills of the Rockies just north of Colorado Springs CO at 6500 ft elevation, the Franciscan Retreat Center at Mt. St. Francis provides panoramic views of the Rampart Range and the Pikes Peak region.
August 10-14, 2008
Spokane, WA
5 p.m. Sunday evening through Thursday noon.
Location: Immaculate Heart Retreat Center is located just two short miles southeast of Spokane's city limits. Nestled at the foot of Tower Mountain, it commands a view of rolling countryside to the west. Fifty-two acres overlooking the Palouse welcome guests to walk and reflect and let the cares of the world be lifted.
CONTACT: Mike Dillon at the Institute Office at 1-888-878-6789 (toll free). Our local contact is Fr. Daniel Barnett, Pastor of St. Patrick's Catholic Church in Pasco, WA and Vocations Director for the Diocese of Spokane (509) 991-7950.
Lenten Missions are given by Fr. Michael Fones, O.P., unless otherwise noted.
February 10-13, 2008
Bloomington, IN
(Archdiocese of Indianapolis)
St. Paul Catholic Newman Center
"What Are You Looking For?" A Lenten mission given by Sherry Weddell and Fr. Mike Fones, O.P.
CONTACT: parish office or Fr. Father Bob Keller O.P., Pastor at (812) 339-5561 x15.
February 17-20, 2008Palestine, TX
(Diocese of Tyler)
Sacred Heart Catholic Church
CONTACT: Msgr Zacharias, Pastor, or the parish office at (903) 729-2463.
February 25-28
Colorado Springs, CO
(Diocese of Colorado Springs)
Holy Trinity Catholic Church"What Are You Looking For?" A Lenten mission given by Sherry Weddell and Fr. Mike Fones, O.P.
CONTACT: Haley Timmons, or the parish office at (719) 633-2132.
March 2-5
Colorado Springs, CO
(Diocese of Colorado Springs)
Corpus Christi Catholic Church
CONTACT: Father Mark Zacker, Pastor, or the parish office at (719) 633-1457.
March 10-13, 2008
Aurora, IL
(Diocese of Rockford)
St. Rita of Cascia Catholic Church
A Lenten mission given by Fr. Mike Fones, O.P.
CONTACT: Mary George, Director of Evangelization, or the parish office at (630) 892-6089.
March 17-19, 2008
Eugene, OR
(Archdiocese of Portland)
St. Thomas More Newman Center
A Holy Week mission given by Fr. Mike Fones, O.P.
CONTACT: Corinne Lopez, Director of Faith Formation, or the Newman Center Office at (541) 343-7021 ext 23.
Two-minute daily meditations on the Lectionary readings for the Lenten-Easter season (90 meditations in all) are available in audio files from Awakening Vocations, a ministry of Called & Gifted teacher Mary Sharon Moore. Each meditation offers a vocational slant on the Scriptures for this rich liturgical season. For details, or to obtain a copy of these meditations for yourself or your Catholic radio station, contact Mary Sharon at info@awakeningvocations.com, or call her toll-free in Eugene, Oregon, at 1-888/687-2046. The series was recorded at KBVM-FM, Catholic radio for the Archdiocese of Portland. Awakening Vocations is dedicated to awakening the vocational culture of parishes.
Called & Gifted Workshops
January 31 - February 1, 2008
Houston, TX
(Archdiocese of Galveston-Houston)
St. Mary Seminary
Workshop for seminarians.
CONTACT: Very Rev. Brendan Cahill, Rector, or the Seminary office at (713) 686-4345.
February 1-2, 2008
Lewiston, ID
(Diocese of Boise)
Our Lady of Lourdes Catholic Church
CONTACT: the parish office at (208) 743-6101.
February 8-9, 2008
Olympia, WA
(Archdiocese of Seattle)
St Michael Catholic Church
CONTACT: Kathleen Wright, Steward for Time, Talent and Evangelization, or the parish office at (360) 754-4667 x115.
Ripon, CA
(Diocese of Stockton)
St Patrick's Catholic Church
CONTACT: Arlene Riemersma, at the parish office, at (209) 838-2133.
February 15-16, 2008
Moses Lake, WA
(Archdiocese of Yakima)
Our Lady of Fatima Catholic Church
Spanish Workshop
CONTACT: Father Felipe Pulido, Pastor or the Our Lady of Fatima parish office at (509) 765-6729.
Prague, OK
(Archdiocese of Oklahoma City)
St. Wenceslaus Catholic Church
CONTACT: Father Shane Tharp, Pastor, or the parish office at (405) 567-3404.
Santa Clarita, CA
(Archdiocese of Los Angeles)
Bl. Kateri Tekakwitha Catholic Church
CONTACT: Bobby Vidal, Director of Religious Education, or the parish office at (661) 296-3723.
February 22-23, 2008
Boise, ID
(Diocese of Boise)
Cathedral of St John the Evangelist
CONTACT: the Cathedral parish office at (208) 342-3511.
Salt Lake City, UT
(Diocese of Salt Lake City)
St. Catherine of Siena Newman Center
CONTACT: Brother Robert King OP, Chaplain, or the Parish office, at (801) 359-6066.
February 29 - March 1, 2008
Greenville, SC
(Diocese of Charleston)
St Anthony of Padua Catholic Church
CONTACT: Kate Tierney at (864) 234-2471; or, by e-mail.
March 7 - 8, 2008
Portland, OR
(Archdiocese of Portland)
St Pius X Catholic Church
CONTACT: Molly Washburn, Director of Community Life, or the Parish office, at (503) 644-5264 x13.
Chewelah, WA
(Diocese of Spokane)
St. Mary of the Rosary Catholic Church
CONTACT: Alisa Kostecka, Director of Religious Education, or the Parish Office at (509) 935-6367.
March 30, 2008
Great Bend, KS
(Diocese of Dodge City)
St. Rose Catholic Church Spanish Workshop
CONTACT: Becky Hessman, Vocations Co-ordinator for the Diocese of Dodge City (620) 227-1530; or Mercedes Helms at Prince of Peace parish (620) 792-1396.
Learn how to help others (as individuals or in small groups) to discern their charisms.
PREREQUISITES:
* Basic listening skills and spiritual maturity (best if practicing Christian for 2 years prior)
* Must have attended live Called & Gifted workshop or listened to CDs or audio tapes, took Catholic Spiritual Gifts Inventory, did some personal discernment, had a one-on-one personal Gifts Interview.
February 8-9, 2008
Greenville, SC
(Diocese of Charleston)
Twigs Tempietto
CONTACT: Kate Tierney, at (864) 234-2471; or the Catherine of Siena Institute office: 719-219-0056.
The Catherine of Siena Institute is a religious non-profit with 501C-3 status. We receive no financial support from any diocese or from the Western Dominican Province, but are entirely self-supporting. Your donations and gifts-in-kind are essential to our ongoing operations.
Please consider participating in planned giving with the Catherine of Siena Institute. As you write your plan for the future help us expand our efforts in the formation of intentional lay disciples.
To learn how you can help us, please contact our Development Officer, Mr. George Martelon at (303) 847-7052.
Once again, thank you to Anna Elias-Cesnik and Patricia Mees Armstrong for their help in editing this edition of the e-Scribe. Please keep Patricia in your prayers as she continues to battle against cancer. Fr. Paul Wicker always leaves the door of his home open to Fr. Mike when he's in Colorado Springs. Col.Liz Anderson has purchased a new used car for Fr. Mike to use while he's in the Springs. It has yet to be named.
Things Are Hopping in Australia!
by Clara Geoghegan, OPL, and Michael Fones, OP
People around the U.S. are sometimes surprised to learn that the Catherine of Siena Institute has an international scope. In addition to teaching teams in Indonesia, the Institute has a foothold in Australia, thanks to the hard work of Clara Geoghegan, OPL, and her co-director, Fr. Anthony Walsh, OP. The Institute began in Melbourne over three years ago, when Sherry and Fr. Mike spent several weeks in that city presenting the old Making Disciples, Equipping Apostles, a Called & Gifted Workshop, interviewer training and teacher training to an enthusiastic (and ultimately exhausted) group of Aussies.
Since then, Clara, who receives a partial salary from the Archdiocese of Melbourne, has worked to expand the reach of the Institute. This past year, the small team of teachers and interviewers offered Called & Gifted workshops in the Archdiocese of Melbourne and the dioceses of Perth and Canberra. Interviewer training will have been held in all three of those dioceses this year. In addition, small group discernment will be offered as an elective for a certificate of Pastoral Theology in the Archdiocese of Melbourne.
Two of our Making Disciples workshops last year, Colorado Springs and Faulkner, MD, were each blessed with the presence of two delightful pastoral leaders from the archdioceses of Brisbane and Sydney, respectively. This year Brisbane will be hosting interviewer training, a Called & Gifted workshop, and teacher training, and both archdiocesan teams expressed an interest in Sherry and Fr. Mike traveling to Australia to present Making Disciples.
Perhaps most exciting of all though, is the participation of the Catherine of Siena Institute – Australia in World Youth Day 2008. The Institute was selected to give a ninety-minute presentation on the discernment of vocation and the Called & Gifted process as part of the Youth Festival. The presentation will be repeated between four to eight times over the four days of the Festival. Being chosen is a real achievement, as 617 groups applied to put on events at World Youth Day, but only 270 were approved by the Pontifical Council for the Laity.
Clara says, "There will be many presenters promoting priesthood and religious life, but our focus will be discernment as a right and duty for all the baptized… We are confident that ours will be the only presentation which does not focus solely on 'state-in-life' vocations and, therefore, will be a truly radical and authentic approach to vocational discernment."
In addition to participating in the Youth Festival, the Institute will also share a booth with the Dominican friars at the Vocations Expo, where Clara and her associates will hand out 40,000 brochures on both the American and Australian branches of the Institute.
Half a million people are expected to attend World Youth Day, with 186,000 coming from outside the Sydney area, including 36,000 pilgrims from the U.S. A large number of clergy will surely be present as well. Nearly 10,000 priests and 800 bishops attended the last World Youth Day in Cologne. This is an incredible chance for us to spread the word about our work to serious Catholics from all over the world. It will also undoubtedly mean even more interest in the work of the "Institute Down Under!"
One Crafty Lady: A Charism Profile
by Fr. Michael Fones, O.P., co-Director, Catherine of Siena Institute
I conducted a gifts interview with Anna Elias-Cesnik after a Called & Gifted workshop in Tucson, Arizona, a couple of years ago. Apparently, the workshop, interview and discernment process had a profound effect on her, and it didn't sit well with her when she mentioned the interview a year or so later and I had no recollection of it! Fortunately, Anna is the forgiving sort, and so she agreed to do an interview with me about one of her charisms: craftsmanship. Since participating in the workshop, Anna has retired (early, I'm sure she'd want me to mention) from working in the office of the provost at the University of Arizona, where she maintained a website and coordinated the tenure process for academics at the university. She has gone through interviewer and teacher training with the Institute and has taught with her husband Mark and me on several occasions.
MF: Anna, what can you tell me about what you make?
AE-C: I have a whole herd of nieces. They ask me to make things for them for really special occasions, like wedding cakes or a wedding dress. I made a wedding veil for one niece, and a friend of hers then asked me to make one for her wedding. Making things for them is one way I make connections with them. They really appreciate it when I make little earrings or doodads for them. They treasure them, and if one gets something and another doesn't, there's a little competition. Making things for friends and family is a way I show how much I love them and value their presence in my life.
I get a lot of personal enjoyment from cooking or crafting. I love planning and figuring out what people's likes are, and then executing my designs. While making a meal or some object, I have that person in mind; I meditate about him or her the whole time, and get excited about the process.
MF: When did you start crafting?
AE-C: I have memories of crafting all my life. I remember being quite young - about 2nd grade -when I had a friend who was learning how to knit and I thought, "I need to learn how to knit!" So I asked my mom, and she began to teach me. My second and third grade teacher was a Sister of Charity who thought all her kids should learn how to sew. She taught us how to do a simple running stitch, and them mom taught me how to execute a hidden/blind stitch, so the stitches wouldn't show. I made an apron for my mom in the third grade, and she kept it all her life. When we were going through her things after mom died, I found that apron and still have it. I was surprised at the quality for an eight-year old.
Crafts came easy for me – anything having to do with needle and thread became part of what I did whenever I had free time, including embroidery, knitting, crochet, and off loom beadwork. I spent the summer before fifth grade making doll clothes. The next summer mom sent me to a "camp" at a department store downtown to learn to sew my own clothes. I went every day for a number of weeks, riding the bus downtown. We had a fashion show at the end. Through high school and college I sewed my own clothes. I also sewed for my mom. She thought if she showed me how to do something, she wouldn't have to do it anymore herself! I made clothes for mom, made a dress for my sister, and when I was in college I made outfits for all my nieces.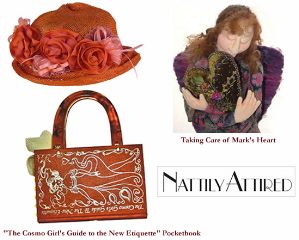 MF: What kind of feedback do you get from people regarding the things you make?
AE-C: The people who receive the clothes I make wear them! One of my nieces was reminiscing about something I had made her when she was ten or twelve - how she loved the shirt I had made. I'd take my nieces shopping and let them choose the fabrics they wanted.
One time when I was in college, I made a lot of rag dolls I was going to sell, but not many sold, so I gave them as gifts for Christmas. I made cloth tote bags and appliquéd the names of each niece or cousin on the bags and put the dolls inside. I never heard any feedback at that time. One of the cousins was eight or nine years old at the time. When she got older and went to the University of Arizona, she got involved in the Hari Krishnas, left her family, left the country, and had very little contact with her family at all. This lasted a number of years, and the family was devastated - she was a beautiful young woman. Eventually, she got very ill and had to come home because the group couldn't care for her. She eventually got better, straightened out her life a bit, went back to college. When she completed her bachelor's degree, she invited me to her graduation party. She told me she still has the bag (and she is now in her late 30's!) She said she took the bag with her when she was away from the family, and told me how much it had meant to her. That little bag provided her with a connection to family and home and people who loved her.
MF: What else do you do with the things you make?
AE-C: I sell beaded jewelry, make hats, cascarones (festive, hollow chicken eggshells filled with confetti meant to be thrown or broken over someone's head - usually as a surprise from behind - scattering confetti [signifying God's blessing or grace] all over the person), flower corsages made from ribbon that are pins to decorate hats, jackets, or dresses. Recently I began buying old books and using the covers to make pocketbooks. I also have made fabric dolls, and will make one for my 42 year-old niece for her birthday – on request. I sell my work at art fairs like the one held by the Tucson Museum of Art. I also sell things at a fundraiser for the Cancer Support Center, and a local shop buys hats that I make. The art fairs aren't about selling as much as getting feedback. It provides a way for me to connect with people, especially the women who come to my booth. They try things on, we talk, they bring friends over and have fun. They'll say things like, "Your stuff just makes me feel happy." They reminisce about things their mother wore. The crafts spark conversation. It's an outreach thing and lets me meet interesting people from all over. Mark will help me set up and take down the booth at these events, and we get to spend the weekend and meet people together.
MF: Is there a "call" associated with crafting for you?
AE-C: It's kind of changing. When I worked, I'd steal away time during the day to sit down and make something. It might be five minutes before people awoke, or when they were asleep at the end of the day. It was centering, comforting, meditative, and I felt a drive to do this. When I was forty, I decided, "this is what I want to do for a living." I retired when I was able in order to spend as much time as I want making things. I've dreamed of it for as long as I can remember. It's fulfilling, but it's not everything, and now I wonder if I'm being called to other things. Recently, Sr. Diane [Bridenbecker, O.P.] at the Newman Center asked me if I'd ever considered becoming a spiritual director. I'm getting encouragement from Mark to explore that possibility. I won't make a living from crafting, but it sure is a heck of a lot of fun.
MF: How is crafting an expression of your relationship with God?
AE-C: Here's an example. Do you remember the baptism of Rosemary and Emma Kinnison? I made a bunch of cascarones, and, for some reason, you were on my mind and in my prayer while I was making them over the two weeks before the baptism. I intended them to be for the enjoyment of the kids, but you were the beneficiary of the blessings. [Yes, indeed. The kids at the baptism party took such delight in chasing me around the Kinnison's yard and hitting me with the beautiful cascarones Anna had made that I was covered in confetti "blessings" when they were finished! Anna also gave me several cascarones to keep, one of which was used to bless Sherry at the end of a Called & Gifted workshop in Rapid City, SD.]
MF: How could the Christian community offer you support?
AE-C: I love it when people ask me to make things for them. When I'm making something, it makes it a more meaningful, more prayerful experience to know who will receive it. I'm able to imbue in that object part of myself and my excitement and enjoyment in making it. Being asked to make something gives me encouragement.
Anna's interview illustrates the three signs of the charism of craftsmanship.
1) She is energized by the act of creating something with her hands - even to the point of getting up early or staying up late to work on a project when she was still working full time.
2) She receives good feedback from people who receive some of her handiwork as gifts, or from patrons who purchase her crafts - and the fact that they wear clothes, jewelry and hats she has made, is further positive feedback.
3) The craftwork she engages in is meditative and prayerful for her, and expresses her love and appreciation for people in her life.
Her work is sometimes whimsical, like the cloth doll "toilet fairy" suspended in her bathroom, the pocketbooks made from book covers, and the cascarones. I can tell you from experience that what she makes is always beautifu.
A Fresh Look at Literacy
by Mary Sharon Moore, M.T.S.
Literacy—the ability to read and comprehend—is absolutely necessary to navigate through life. Literacy as a "meaning making" skill is one important way we assign value to things and make sense of our lives, our circumstances, and our world. But "reading and comprehending" is not confined to ink on newsprint or words on the computer screen. We seek meaning in our lives because the human spirit is irresistibly engaged in the mystery of life.
Within our Catholic heritage, what are some forms of literacy that engage us in God's life by shaping and illuminating what is truly human in our own?
Religious literacy: The ability to read and comprehend God's creative and redemptive work in the world today, especially in the life, death, and resurrection of Jesus and the outpouring of the Holy Spirit. Religious literacy frees us to participate in God's work of compassion, healing, and justice.
Moral literacy: The ability to read and comprehend the quality of human relationships in light of the source and destiny of all relationships, namely the Holy Trinity.
Emotional literacy: The ability to read and comprehend the emotional situation of another person in ways that enable us to express compassion, offer encouragement, and affirm the dignity and worth of the other. Emotional literacy is costly, not only enabling one to "read" the sometimes difficult situation of another, but freeing us to be present to the other and in some way to restore their human spirit.
Social and cultural literacy: The ability to read and comprehend the events and signs of the times through the "meaning-making lens" of the Gospel. Social and cultural literacy lies at the heart of the Christian prophetic calling: to name things for what they are and to draw them into God's care, a literacy that enables persons of Christian faith to reveal the reign of God.
It's good to take a literacy test every now and then, to assess how well you are "reading" your faith in a world so in need of healing, restoration, wholeness, and true peace.
Mary Sharon Moore is a nationwide teacher of the Called & Gifted workshop, and director of Awakening Vocations, a ministry dedicated to awakening the vocational culture of parishes. This article first appeared in the January-March 2008 issue of News & Views, the quarterly newsletter of Awakening Vocations, and is reprinted here with permission. Mary Sharon may be reached via e-mail or toll-free at (888) 687-2046.
Moralistic Therapeutic Deism
by Sherry Weddell, co-Director, Catherine of Siena Institute
I recently came across this challenging article, Passing Faith: What Benson the Butler and Your Youth Ministry Have In Common, from my alma mater, Fuller Theological Seminary. The article is about startling youth ministry research that I somehow missed. After reading the article, I posted the following essay on our blog: Intentional Disciples
"Christian Smith, Associate Chair of the Department of Sociology at The University of North Carolina at Chapel Hill, says that the average youth worker across the country should recognize these statements almost immediately. According to the research he and his colleagues have been doing in partnership with the National Study of Youth and Religion, these are the core religious beliefs of youth aged 13-17 today.
God exists and has created and ordered the world and watches over human life on earth.
• God wants people to be good and nice to each other and to be moral, as taught in the Bible and most world religions.
• The central goal of life is to be happy and to feel good about oneself.
• God does not need to be particularly involved in life except when needed for a problem.
• Good people will go to heaven when they die.
Smith coined the phrase: Moralistic Therapeutic Deism to describe this set of beliefs.
Moralistic: This means that youth generally think it is important to be a good person (and that this is a major goal of being "religious").
Therapeutic: Religious experience, indeed religion itself, exists to help us through life's problems and makes us nicer people. In this approach, religious participation will often be defined around how religious experience has helped someone overcome personal difficulties.
Deism: God exists, had something to do with the creation of the world, but generally isn't terribly active or demanding of God's creation, especially in terms of the actual, spiritual experience of youth. It's an explicit rejection of Christian orthodoxy.
If you can't tell, this religion (and we should call it a religion) is not particularly grounded in a set of thoughtful traditions. It's not even particularly theological as much as it is theopersonal, i.e., how God, the Heavenly Divine Butler, benefits the person, the individual.
And our kids are riddled with it. But where do they get it? Where could such a self-centered, consumerist, egocentric remaking of Christianity have come from? Smith says kids learn this behavior from the adults around them, strongly suggesting that Moralistic Therapeutic Deism (MTD) is the pop religion of American families."
While Smith is reflecting upon his experience of American Christian kids as a whole, I must say that this fits what we are encountering as we talk to Catholic adults around the country.
95% of all Catholics I've talked to about issues of salvation are de facto Pelagians, 99% are de facto universalists, and huge numbers are working deists.
Even those who are most enthusiastic about evangelization often freeze when asked to contemplate the mere possibility that not everyone is automatically "saved." That is, they consider eternal life as something given to us by God completely independent of some conscious response to the grace of God in whatever form it has reached us.
Last year I tried to sum up for myself the heart-level assumptions of regular life-long Catholics in ordinary parishes that I've encountered. It went like this: all of us are saved, and all of us have earned it, but no one of us is a saint because that wouldn't be humble. One thing that has stuck with most older cradle Catholics is the idea that they are supposed to be humble!
The upshot: most of us are humble when what is called for is magnanimity, the aspiration to accomplish great things for God and others. We are presumptuous when what we desperately need is a dose of humility. I mean, just how good am I, really, and what does Jesus Christ have to do with my salvation?
Moralistic therapeutic deism - it isn't just for teens anymore. In fact, they've probably caught it from us adults.
The Miracle of Marriage
by Patricia Mees Armstrong
He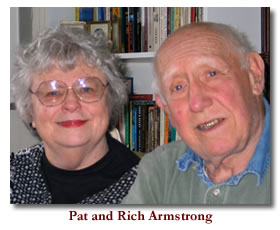 never understood why she loved him
No
matter how often she told him
And
despite all the years they had shared
It
was still a mystery to him
Until
at last there was no reason for
Him
to doubt, nothing further
To
hold back, only truth and trust
For
them to share, and so
She
told him again that
She
loved him, and
He
believed.
©2007 Patricia Mees Armstrong
In addition to editing the e-Scribe, Patricia Mees Armstrong writes poetry, short fiction and essays. Her poetry has received critical notice from Oregon Literary Arts, Inc. and Willamette Writers, and has won numerous prizes for her poetry in the U.S. and abroad. She is the author of the anthologies, "Daring to Dance, Refusing to Die," "On the Road to Laragh and Beyond," "Good Causes and Warm Corners," and "The Rain Bids Me Listen." She recently finished a novel set in Ireland, where she holds dual citizenship. She and her husband, Rich, have been miraculously married for fifty-four years, and reside in Eugene, OR.